New Gourmet Burger Restaurant 400° to Open May 23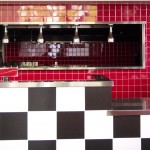 Upscale Burger Restaurant Features Fresh, Seasonal and House-made Menu
400° Gourmet Burgers & Fries restaurant by Mirabel Hotel & Restaurant Group's David Fink, is set to open next Wednesday, May 23. Located in Carmel Plaza on the corner of Mission and Seventh Street, the new restaurant's menu was created by Executive Chef and Partner Jason Balestrieri. 400° selections feature signature house-blended beef patties, locally sourced produce, house-made ingredients including sodas and milk shakes, assorted variations of French fries, signature salads, and a wine-by-the-glass or 1/2 bottle and beer menu.
The name, 400° Gourmet Burgers & Fries, comes from the restaurant's custom-made cast iron griddle produced by the Hayward-based Montague Company, the oldest handcrafted stove company in America since 1857. Cast iron is an excellent heat conductor for locking in flavor and 400° is the optimal temperature for searing burgers on cast iron.
Situated on a prime corner just off Carmel's Ocean Ave. at Mission and Seventh Street, the 2,200 square-foot, 80-seat restaurant's dramatic and modern elements include red tile accents in the kitchen, a distinctive woven stainless-steel wall, Artemide light fixtures, 15-foot two-story tall windows and ceiling to create an open and contemporary aesthetic. Counter and table service are available and customers may choose to dine indoors in the comfortable dining room or outdoors on the dog-friendly, heated patio. With the owners' commitment to sustainability, 400° will use eco-friendly biodegradable greenware and products when available. The restaurant was designed with low voltage lighting, energy efficient appliances including the heating and cooling units and low impact restrooms. With convenient entry right off Mission Street, 400° offers street parking and short-term parking for to-go pickup.
Menu highlights include the Hamburger ($7.95) and Cheeseburger ($8.95) made with house-blended 100% Angus ground chuck and skirt steak and served on a toasted olive oil bun. Other burger option include the 400° Burger: Cheddar Cheese, Lettuce, Griddled Onions, 400° Steak Sauce ($9.95) and The Kobe (burger): Soused Onions, Smoked Cheddar Cheese, Crispy Potatoes, 400° Spread ($13.95). Additional sure-to-please menu items include House Cut Kennebec Fries ($2.95), Duck Fat Fries ($3.95) and Crispy Zucchini Fries ($3.95). 400° Gourmet Burgers & Fries offers many vegetarian and lighter fare items such as the Veggie Burger: Chopped Spinach, Bean & Grilled Vegetable Patty, Griddled Mushrooms, Eggplant-Miso Spread ($8.95), Chopped Romaine: Grilled Local Vegetables, Local Feta Cheese, Green Goddess Dressing ($5.95). To round off the menu, 400° serves strictly house-made sweets including a variety of shakes and floats ($5.95) such as Sea-Salted Caramel and a Black & White (Madagascar Vanilla Bean Ice Cream & Chocolate Sauce), and Chocolate Chip Ice Cream Sandwich ($4.95).
David Fink, Founder and CEO of Mirabel Hotel and Restaurant Group, is known for bringing stylish luxury to Carmel, evidenced through properties such as L'Auberge Carmel/Relais & Chateaux, Aubergine and Cantinetta Luca restaurants and the recently opened Salumeria Luca. Of 400°, Fink says, "This is a dream come true for me and my partners, Jason Balestrieri Chef Partner of Cantinetta Luca/Salumeria Luca and Lisa Dias, COO of Mirabel Hotel & Restaurant Group. It's a fun and casual concept with a modern aesthetic, With Jason's delicious food we think it will be a great addition to our community."
400° Burgers & Fries is located at the corner of Mission & Seventh Street in Carmel-by-the-Sea, CA. Open Sunday – Thursday from 11am to 10pm, Friday – Saturday 11am to 11pm. To-go orders can be placed by calling (831) 244-0040, or online at 400degrees.com.