Aubergine Carmel Makes Zagat's Bay Area Top List for First Time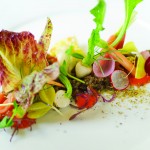 Joins a Distinguished List of Top Five Restaurants
Carmel-by-the Sea's Aubergine restaurant located in the L'Auberge Carmel (Relais & Chateaux) has been recognized in Zagat's just released 2012 San Francisco Bay Area Restaurant Survey receiving top honors as number five and joining a prestigious list, including: Gary Danko (#1 Zagat, one-star Michelin), The French Laundry (#2 Zagat, three-star Michelin), Manresa (#4 Zagat, two-star Michelin), and the Restaurant at Meadowood (#6 Zagat, three-star Michelin). It is also noteworthy that four of Zagat's top six restaurants (Aubergine, French Laundry, Gary Danko and The Restaurant at Meadowood) are members of the prestigious Relais & Chateaux.
Aubergine's Chef de Cuisine Justin Cogley, who joined the restaurant less than nine months ago, said, "This is an amazing honor, especially because it's voted on by the diners. Executive Pastry Chef Ron Mendoza and I are very proud of our team and their dedication."
San Francisco Chronicle's restaurant critic Michael Bauer said about his recent visit to the restaurant, "Aubergine in L'Auberge Carmel didn't have a chef last year when I did a Monterey roundup, but in January the owners pulled off a coup by hiring Justin Cogley, who spent four years at Charlie Trotter's in Chicago. It's truly a memorable meal…"
About Aubergine
Chef de Cuisine Justin Cogley and Executive Pastry Chef Ron Mendoza prepare sophisticated and modern California cuisine. Their cooking philosophy is built first and foremost on spontaneity. With access to an array of outstanding local produce, artisan purveyors and suppliers from around the world, Cogley and Mendoza change their menus frequently based purely on the best ingredients they can source. Chef Cogley's menu is particularly seafood-focused.
Aubergine offers two daily menus. An $89 four-course fixed-price menu offers choices in each category. This might include starters like herb-marinated sockeye salmon with dill pollen and herbs; Monterey Bay abalone with a lobster lettuce sauce and braised romaine; a land-and-sea interpretation of English peas, bone marrow and smoked trout roe; or Japanese Hamachi with mustard greens, oysters and fried pig tails. An additional $75 includes matching wines selected by Wine Director Thomas Perez for each course. Perez oversees the restaurant's 4,500-bottle cellar, which is predominantly focused on renowned and lesser-known quality producers from Monterey, California and France.
The Chef's Tasting Menu ($125) is designed by chefs Cogley and Mendoza and drawn from a list of up to 20 ultra-seasonal ingredients that may appear as either a main component of a dish or as an accompaniment. Integral to the Chef's Tasting Menu are surprise and spontaneity: each dish is a natural progression in flavor reflecting the chefs' imaginative artistry and ability to create a gastronomic journey. The Chef's Tasting Menu lists single ingredients used to construct the dishes, such as: sea urchin, lardo, Wagyu beef, sea beans, rhubarb, and araguani (dark chocolate). The course-by-course wine pairings are an additional $110.
The intimate 48-seatAubergine is located in L'Auberge Carmel (Relais & Chateaux) in Carmel-by-the-Sea at Monte Verde Street & 7th. Open for dinner nightly, reservations can be made at 831-624-8578 or http://www.auberginecarmel.com.
About L'Auberge Carmel
L'Auberge Carmel, a Relais & Chateaux property, is located in the heart of Carmel-by-the-Sea, one block from Ocean Avenue on Monte Verde Street at 7th Street and four blocks from world famous Carmel Beach. The hotel recently received high honors in Travel & Leisure's 2011 annual World's Best Hotels award.
L'Auberge Carmel is a beautiful three-story European-style building designed around a classic brick courtyard. The twenty guest rooms are luxuriously appointed with an elegant décor. L'Auberge is proud to offer guests valet parking, room service, highly polished and personalized guest services, plus Aubergine, a highly acclaimed on-site restaurant. A complete renovation of the historic Inn was completed in August 2004 and updated in 2011 making L'Auberge Carmel one of the village's few full-service inns. L'Auberge also entices guests to its sister restaurant, Cantinetta Luca, a casual trattoria located within walking distance of the inn and Salumeria Luca, a recently opened authentic Italian deli and bakery offering delicious items to-go.
For more information and media-related inquiries please contact Melissa Welles at 415/460-6565 / mw@melissawellespr.com or visit http://www.auberginecarmel.com